By admin on Apr 10, 2011 with Comments 0
For any gun enthusiast, the iPhone app iGun Pro is essential. The app allows users to digitally load, and fire a variety of guns. It also provides the user with the option of creating a digital gun collection.
The app provides a realistic gun firing for each type of gun that is available. Slow down the motion to see the recoil and firing power. Also included in the app is the history and specifications of each type of gun.
There has already been over thirty different updates and the developer continues to update the app. Some of the guns currently available include the Browning machine gun, Desert Eagle, AK-47 and a variety of automatic shotguns.  The cost is 99 cents, and is a reasonable price for the information contained inside of the app. The graphics are great and the digital replications appear realistic.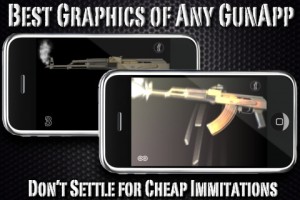 Filed Under: Utility Apps
Comments (0)