By admin on May 31, 2012 with Comments 0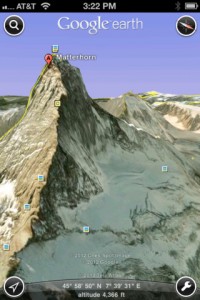 From Japan to Africa, you can finally find the exact locations of wherever you want to go to and more with Google Earth, the app that lets you hold the Earth right in the palm of your hand. This app lets you explore the virtual globe with just a touch of the finger. You want to go to Eiffel Tower? Swipe it. See your friend's house? Zoom it. It's all here with the Google Earth app.
Google Earth features tons of features that makes your finger-swiping journey through Earth easy and convenient. It features the same imagery from the desktop version so if you saw your friend's house in the computer, you're bound to see it in your iPad. It also features the search button, where you can find the exact location of wherever you want to go. It also features photos of key locations, it features articles related to some places and more. It has exclusive features such as swiping with fingers and zooming in with fingers. You can also zoom in on geographical areas, up to the point on seeing mountains.
Google Earth is surprisingly easy to use. The desktop version is a bit daunting to use because of the many options available to you at the start but with the Google Earth app, you're given the essentials so it's easy to use right at the get-go. Because of the ease of use and the fact you can get started right away with using it to locate the place you want, I rate this app 5 out of 5. 
Also, check out some of the Google Easter Eggs that were recently released.
Filed Under: Productivity Apps
Comments (0)